What's new with the Horizon Memory Craft 15000?
NEW Sewing Features
510 Built-in stitches - 10 new stitches
Addition of a maximum stitch width limit function for variable Zig Zag stitch
New spool cap to accommodate larger threads
NEW Embroidery Features
Stitch number selection feature
Import and read .DST format
Import embroidery designs from App, Dropbox, Etc.
Corner layout function for embroidery designs is now available
One Touch Monochrome Feature - Easily convert a multi-color design to single color
Other NEW Features
Wi-Fi Certification
Horizon Link Suite - Remove locking stitch (For linking the specific stippling parts only)
Screen saver app
Addition of function for direct input of stitch numbers
New opening screen design
Function to now go from Warning screen directly to lock mode
New Stitches
The Horizon Memory Craft 15000 v2 has a total of 510 stitches. 10 new stitches are now available.

New Embroidery App
The AcuDesign App is now included with the Horizon Memory Craft 15000 v2.0
Import, export and edit embroidery design files
500 included embroidery designs
Scale your designs, change thread colors, fabric type and automatically adjust the density of embroidery designs.
Preview designs in Photorealistic preview and stitching simulation to ensure perfection every time. Share your designs with your friends on Facebook with one click.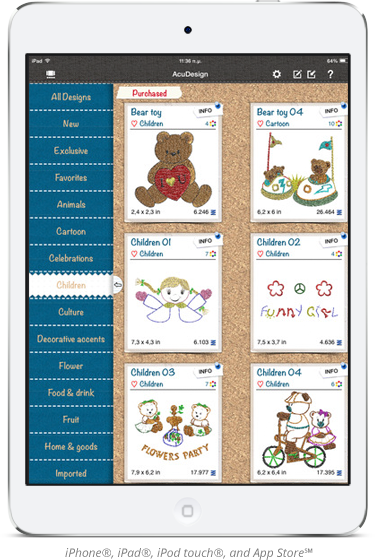 New Features and add-ons in AcuEdit and AcuMonitor
Application software has been revised to match iOS7.
AcuEdit Add-ons
9 new writing styles have been added to give a total of 10 avaialable fonts.
Script, Cheltenham, Bauhaus, Galant, Typist, Brush, First Grade, Hollowblock and Jupiter.
Use email applications, Dropbox and other storages to save and download embroidery designs. Supported formats are JEF, JEF+ and JPX.
AcuMonitor add-ons
Now scroll on screen by using 2 fingers
Improved operability and additional information can now be displayed.
Display a magnified image of the design being embroidered.
Display the current needle drop position
Display how much embroidery time is remaining per layer color
New Modifications to Horizon Link Suite